A pet is more than just an animal that you have and care for. It's your support and rock, your buddy, and belongs to your family. I've had a dog all my life who was my best friend. We always walked together, played, cuddled, etc. Unfortunately, she passed away at the age of 11, leaving a void in our home. After a while, we started looking for a new dog. We found out that there were long queues to buy a dog in the Netherlands, which was very disappointing. Through family, we ended up on a Facebook page "Stichting Walk for Dogs", where we fell in love with a little white dog.
Looking for a new dog
In the Netherlands there is a lot of demand for dogs. Unfortunately, this situation is taken advantage of, and dogs are bred just for the money. The health and care of the dogs are not considered, and they often cannot grow properly and suffer from complications. This is called "Broodfok" in the Netherlands, and our family was certainly not in favor of this. Nor were we waiting for the long queues of official dog breeders.
Romania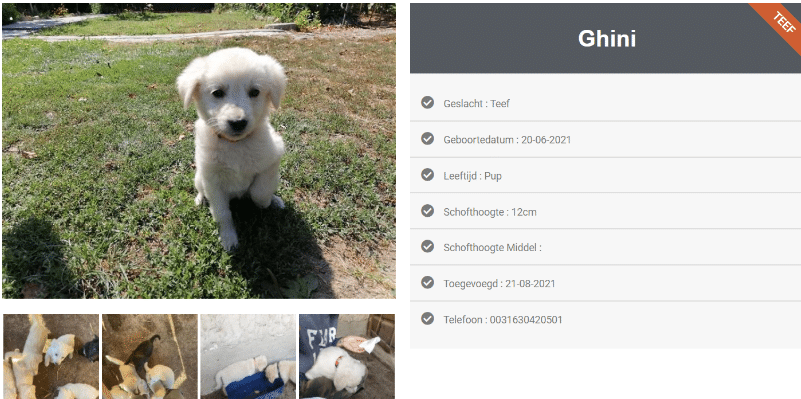 When we informed our family that we were looking for a new dog, my aunt sent us a Facebook page where they rescued dogs from abroad and were looking for owners. We had a quick look at the website and immediately fell in love with a litter of white puppies. These were born on the street and immediately taken care of by a foundation in Romania, which works together with a foundation in the Netherlands and Belgium, where they started taking care of these puppies from day 1. The idea of "Walk for Dogs 2017" came from a passion for dogs. But also, out of dissatisfaction and frustration with Europeans' ignorance of stray dogs. Therefore, they started the company, to bring these stray dogs a good life.
We had sent the foundation a message and told them we were interested. This was followed by a long process of 3 months. Questionnaires, telephone appointments, and a home visit, everything to find the best possible home for the Romanian puppies. After having endured that, we had to wait a few more weeks until the puppies were old enough to be transported to Belgium, where we could pick up our puppy...
How is she now?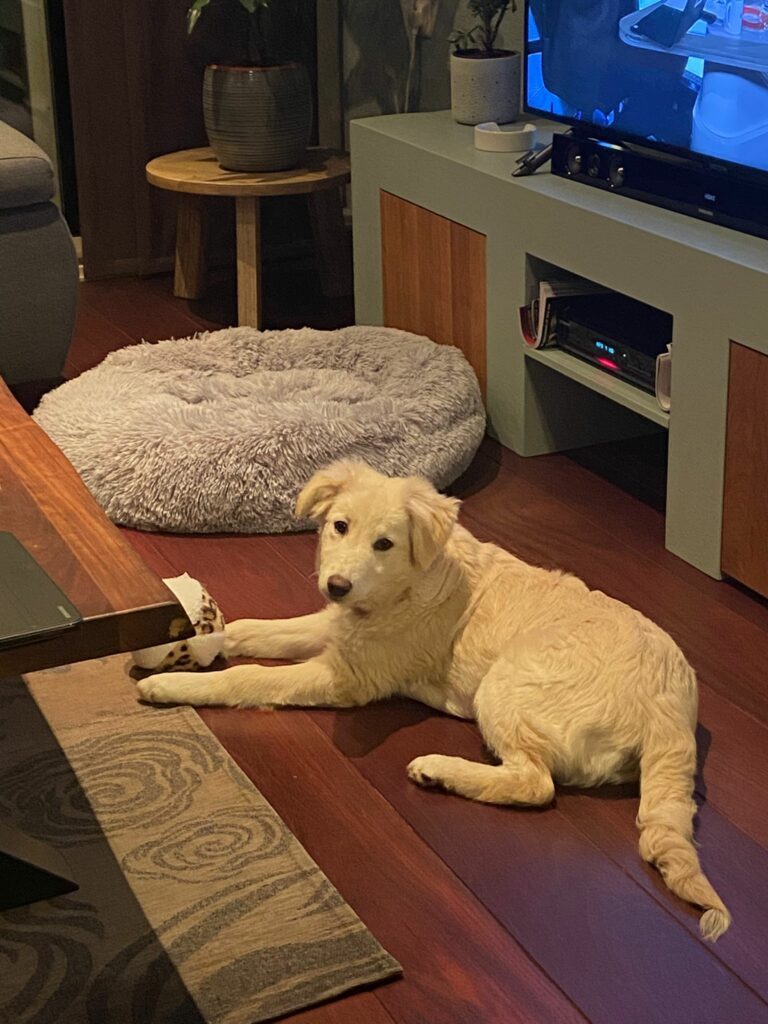 On the 27th of November 2021, our pup called Ghini became part of our family. The first few weeks she was very anxious and silent. Sounds of cars, people talking, or the television flashes were all new to her and made her very scared. Very slowly we started to give her more and more attention and show her more of the outside world. It took some getting used to, but now, 4 months later, things are going much better. She likes to play with toys, run outside and sleep and run over the couch, very naughty you might say. A tip I can give you when raising such a fearful dog is to let her do her own thing in the beginning. Don't force it, let the dog discover the house and the surroundings by themself. This worked best for us and brought her out of her shell.
I recommend everyone to take a look at adoptive dogs. It takes a little more time to raise these properly and make them feel familiar, but in the end, it is well worth it. We now have a happy puppy in our family, who might have had a very different life without us.