As the Winter Holidays are right around the corner, it is time to visit some Christmas markets, to gain a more festive feeling. Christmas markets are street markets, usually associated with the celebration of Christmas and Winter Holidays. The first market of such was held in 1434 in Dresden, Germany, but has now been spread all over Europe. Below I have picked out ten of the best and most interesting Christmas markets in Europe.
Tallinn, Estonia
Dates: 26th of November - 2nd of January
Since I am originally from Estonia, I believe it is a must to mention the Christmas market in Tallinn, our capital! This market was awarded Europe's most beautiful Christmas market in 2019. It's held in the old Town Hall Square, which has a medieval feel to it thanks to the snowy rooftops and cobblestones. Visitors can purchase items such as high-quality handicrafts, souvenirs, winter accessories, and Christmas-themed food at the market. Before riding the merry-go-round, children can write letters to Santa Claus with their gift requests, and even receive sweets in exchange for reading a poem. You can also witness dance troupes and listen to musical performances from numerous brass bands and bell ringers!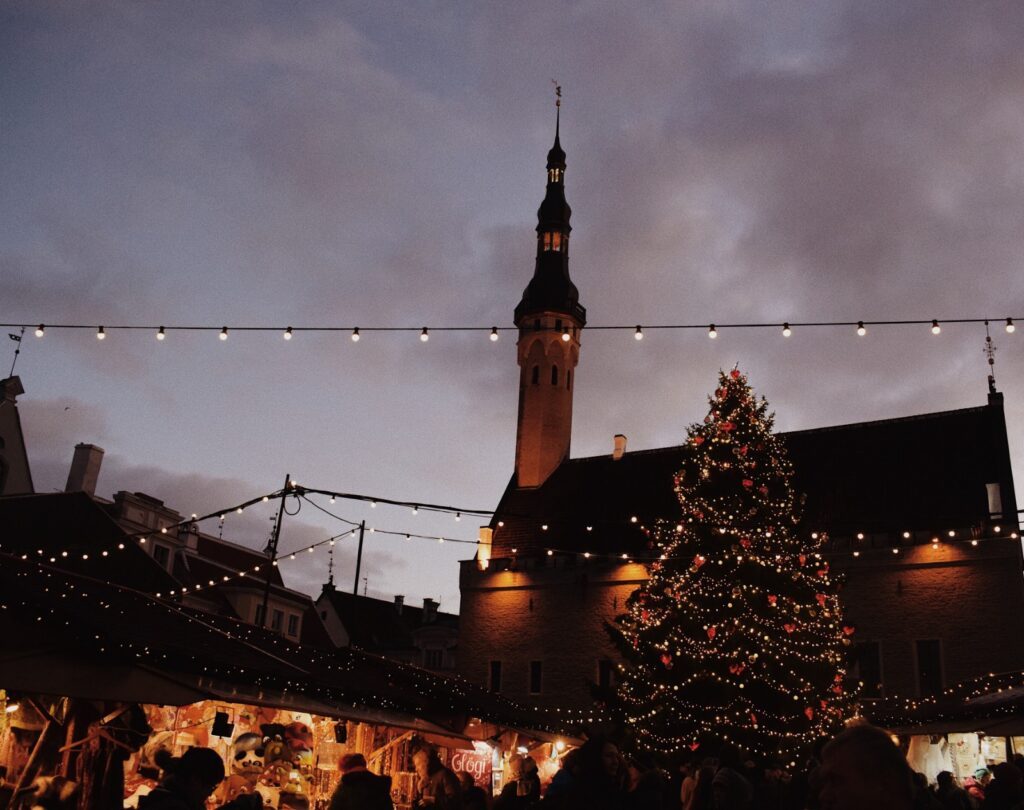 Gothenburg, Sweden
Dates: 19th of November - 30th of December
Starting in November, Liseberg, Sweden's most popular amusement park, turns into one of Europe's most elegant Christmas markets. Even though most amusement park attractions are closed throughout the winter, you may still enjoy the festive atmosphere and taste local delicacies such as toffee apples, handcrafted candies, or glögg, a Scandinavian mulled wine. There's something for everyone: kids can visit Santa in his wooden workshop or ride bumper cars (which can also be fun for grownups!), while others can watch the breath-taking ice show, or even skate themselves.
Dresden, Germany
Dates: 22nd of November - 23rd of December
Dresden, as previously stated, was the first European city to organize a Christmas market in 1434. The first purpose of such a market was to offer meat for citizens' Christmas dinners. Despite the fact that Germany has 150 cities and towns with Christmas markets, Dresden's is the largest! Over 200 stalls now sell Ore Mountain wood crafts, Moravian stars, and Lusatian blue printed fabrics, among other local specialities and handicrafts. Aside from the market, tourists can visit theatres to see Christmas plays, museums to see special exhibitions, or take a boat trip along the Elbe river covered with sparkling lights.
Strasbourg, France
Dates: 26th of November - 26th of December
The Strasbourg Christmas market, which takes place at Place Kléber, is France's oldest one, dating back to 1570. The city is known as the Christmas Capital of France. Strasbourg becomes one of Europe's most illuminated towns in December, with blinking lights adorning the streets, houses, windows, and balconies! The market boasts Europe's tallest Christmas tree, measuring up to 30 meters! Visitors can purchase one-of-a-kind ornaments for their Christmas trees, as well as local sweets and other handicrafts, from 300 market stalls and merchants located around the city centre.
Amsterdam, the Netherlands
Dates: 13th of November - 30th of January
Ice Village Amsterdam will transform the Museumplein into a cosy skating rink and a Christmas village, providing tourists with a lovely setting to enjoy ice skating. If you don't want to skate, there are various stalls selling food and drinks to warm up your body, as well as the opportunity to buy last-minute gifts and souvenirs, ranging from clothing to accessories. In Ice Village Amsterdam, you won't get bored because such markets are already known for having live entertainment. So, grab your skates and enjoy the delightful winter activity in the heart of our capital, with the Rijksmuseum in the background!
To learn more what kind of cool Christmas markets there are in Europe, check out part 2 of the article, which will be published on the 10th of December.