I am a strong believer that coincidences do not exist. That's why when Kathelijn from We Are Playgrounds, who at that time I had just met, handed me a flyer for a festival called "Blend", I already knew I was definitely going! And I knew it would be one of the best things I have done for myself.
Blend 2021 felt like coming home. It opened doors I thought I had shut forever, and forced me to meet part of myself that I used to hide in the back of my pocket, afraid that they might too, not quite fit anywhere. Well, I couldn't be more wrong - there is a place where my thoughts can run freely, and my heart feels understood. Art. The antidote to reality. And, before I get carried away talking only about my own experience, I want to share a bit more about We Are Playgrounds because they deserve to be in the spotlight.
You may, or may not label yourself "creative", but this doesn't really matter because creativity does not know any limits. Creative innovation should be celebrated every day. This is what We Are Playgrounds is all about - bringing the international creative industry together, showcasing and developing creative concepts! From graphic design to audio-visual animations, films, games and more. Are you already intrigued?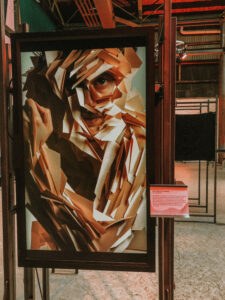 This is just a tiny bit of what this amazing, talented, and innovative team does on a regular basis. Their mission is to bring knowledge, inspire and be the connection between different artists themselves, as well as creators of all kinds and the industry. Several different departments allow you to dive into the world of creativity and expand your horizons - Playgrounds Blend, Playgrounds TV, Next, and more. Each offers a great variety of opportunities to learn from experts in the field and find your most authentic artistic self. Not only that, but with a monthly subscription to the On demand department, you can get access to a great collection of presentations, talks, and enjoy their content before anyone else.
I believe this is a platform not only for artists but is aimed towards everyone who is creative and wants to find their path in this field. It has never been easier! If I were you, I would visit their website and dive in!
Now is the time to mention that the topic of creativity has always interested me. Last year I started reading more literature, and actively asking people for their opinion, as well as engaging in conversations about it. (Check out BUas library for some great reads on the topic of creativity and let me know if I should share my favorites because I have quite a few). Art and creativity may go hand in hand - yes, but it is all about making connections that others don't. It is about interpretation and innovation. Maybe that's why I found myself crying in front of some of the most controversial installations at the expo at Blend, as well as at some that were for many - nothing special.
As for the speakers who were at Blend, I need to mention that they are beyond great artists, but most importantly - just human! I learned so many valuable lessons concerning art, creativity, working in the industry, finding your voice, creating empathy and life itself. I learned that I need to lower this harsh judgmental voice of mine that makes me doubt, and stops me from dreaming in colour. And instead, I should celebrate the gift of creative thinking.
If all of this sounds like you, and you feel sorry you missed it, I got you! Blend 2021 will host an online event too on the 24th and 25th of November. Check out their website for more information: https://weareplaygrounds.nl/blend/