Finally we are able to study at our beautiful campus (again). In 2020 our very own campus won the BLASt-architecture prize. BLASt is a platform, based in Breda, that focuses on landscape, architecture and urban design. Supported by the municipality of Breda, they yearly distribute a price. BUas was elected as the best public building in Breda. Of course, we are still very proud of this. We, as the BUas community, enjoy the good atmosphere on this campus regularly, with among other things our very own radio station and our in-house restaurant Sibelicious.
However, the campus is big. Probably, you haven't even seen everything our campus has to offer. When you haven't been at campus that often or only have classes in one and the same building, you presumably have no idea about all the nice places you can find on campus. Not to worry, we listed four spots for you to discover!
Gem 1: The silent rooms
Do you want to be able to hear yourself think again, or are you trying to finish that deadline last-minute? The silent rooms are your solution. It's not hard to guess what these rooms are meant for. In these rooms, you can finally work in complete silence. You can find the silent rooms right behind the library in the Horizon Building. You don't even have to reserve a spot. Just walk in whenever you feel like enjoying some quietness to study or if you are desperate for a nap after your research class 😉.

Gem 2: Innovation Square
Perhaps you have already seen the Innovation Square on the ground floor of the Frontier Building. But there must be more to do there than grab a coffee from the coffee machine, right? There is! The Innovation Square is a place to take a look into the future and become acquainted with real companies in the industry you want to work in. No, this is not only for the studies that are situated in the Frontier Building. All BUas students are more than welcome here! At the Innovation Square, you can even organize your own event.
Over 280 students of BUas have their own company next to their study and circa 16% of the students would like to build their own company (wow, BUas students are so passionate). If you are one of those students, the Innovation Square is the place to be. Your commencing company can be situated here, between the already established successful companies.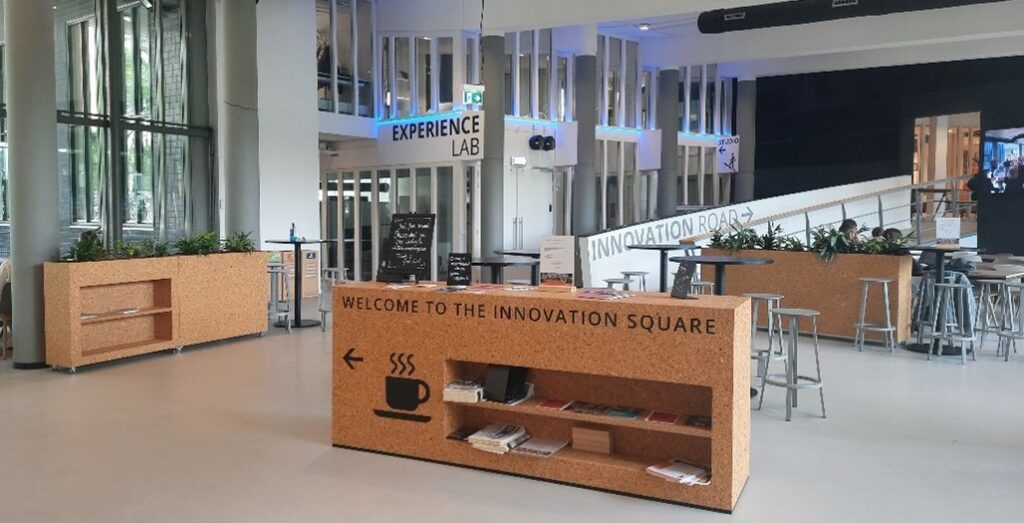 At the Innovation Square, they can help you to get in contact with a coach so that you can make the most out of your company with the help of BUas Startup Support. Interested? Walk by the 'Braventure' office (Fe0.0025). But of course, if you can't take all this information in because you aren't really awake yet, the coffee machine is also still there.
Gem 3: Sports Bar and Playground
If you study in the Ocean Building, you might already know these places. But these fun spots are also accessible for other BUas students. Making new friends, having a drink or playing a game. If you need some time to rest your brains from a day of studying, the Sports Bar is where to go! The clubs of BUas are also situated in this bar. Next to the Sports Bar, you can find the Playground. We have all read the emails and we have seen the brochures about the BESTtrainings. Interested in these training sessions? They take place on the Playground. And of course, as the name suggests, you can also play at the Playground, table tennis for example. Maybe this can be a good energizer between classes?
Gem 4: Pop-Up Shop
You probably know about the packed canteens at the BUas campus and we have mentioned the restaurant Sibelicious in the Horizon Building (where you can eat a three-course lunch for only €14,50 by the way). But did you also know that you can buy food right in front of the restaurant?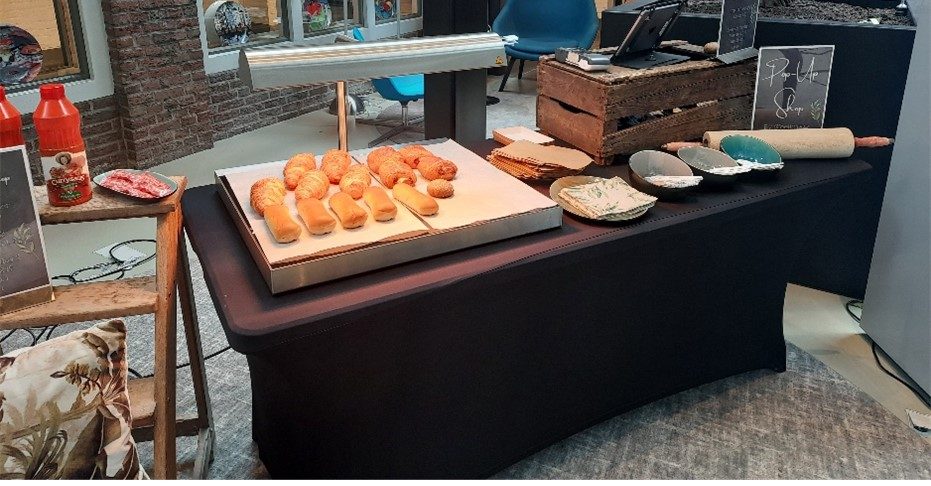 This place is less crowded than most canteens and serves different food than the other BUas Food Courts.
It is placed between the Taste Lab and the restaurant, immediately in front of you when you enter the Horizon Building. Have a nice lunch!
As you have read, our school is not just a place to study. There are many more practical and fun places at our campus than just the above-mentioned ones. I dare you to discover them all! See you on campus.