Every year on the 27th of April, the streets of the Netherlands turn orange. It's King's Day! Being a typical Dutch holiday, it might be interesting to know as an international student: what are the essentials to celebrating it?
Dressing up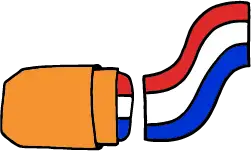 When you think of King's Day, you think of orange, red, white, and blue. To fully immerse yourself in the King's Day experience, it is nice to wear something that has these colours. The Dutch flag face paint is also immensely popular. Paint one or a few on your face and you're good to go. If you don't want to invest in an orange outfit, you can always get an orange flower necklace, these are cheap and festive!
Food
You can't go wrong with eating delicious pastries to celebrate holidays, right? On King's Day, the orange tompouce is one of the most popular sugary sweets, despite them being insanely hard to eat without making a complete mess. Buy them at your local HEMA, or grocery store like Albert Heijn, but don't wait too long, because the rest of the Netherlands will want to have them, too. Getting them is essential to having the ultimate King's Day celebration. Fun fact: HEMA now also has orange tompouce Lowlander beer. Have you tried it yet? Let us know what you think on the HUB Instagram page.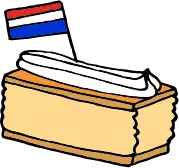 Garage sales
It is tradition to sell your old stuff or just visit a garage sale on King's Day in the Netherlands.
In Park Valkenberg, Breda's largest park, a big flea market is being organized, especially for children, starting at 11:00. In the park, there will also be a carousel, live music, and food trucks.
There will also be garage sales at Belcrum Beach and STEK. Here you will also find plenty of music, food, and drinks.
King's Night and King's Day events
Besides the popular sold-out events like 538 Koningsdag, a festival with mainly popular Dutch artists, and Free Your Mind Kingsday, a techno festival, there are plenty more fun events to go to. We've listed some of them for you, enjoy!
When? Wednesday 26 April 18:00-02:00
Where? Oostkust, Bavelseparklaan 18
This small-scale festival with house beats and disco classics is the way to go if you want to dance your heart out on King's Night!
When? Wednesday 26 April 23:00-04:00
Where? De Graanbeurs, Reigerstraat 18 20
For this event, three halls will be opened, each focusing on a different type of music. The big hall will be transformed into the Latin Mix District, with R&B, Latin hits, reggaeton, and dancehall. Another hall will be the Salsa District. Here you will hear a mix of salsa, bachata, and merengue. There will also be a bachata workshop. In the small hall downstairs, you will find the R&B district, with old and new R&B, and afro. This event is perfect for lovers of Latin music.
When? Wednesday 26 April 21:00-02:00
Where? Pier15, Veilingkade 12
The line-up includes Borokov Borokov and Pol. This evening you can expect a variety of relatively unknown music genres, such as angular synth pop, acid house, and electropunk.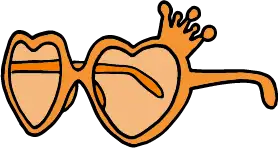 When? Thursday April 27 14:00-23:00
Where? Oostkust, Bavelseparklaan 18
This summer, ZONNIG will be a weekly recurring event at Oostkust. Every Sunday (and this King's Day), you can enjoy the sunny weather (hopefully) and the music of top-notch artists.
When? Wednesday, April 26 18:00-01:00 and Thursday, April 27 12:00-23:00
Where? Haven, Havermarkt, Kerkplein, Vismarkt, Vissersstraat and the Sint Janstraat
For King's Night and Day, there are outdoor stages spread over the city center of Breda. Click here to check out the lineup. With six different stages, there is something for everyone. The Koningsfeesten are popular, and it is expected to have many visitors. To top it all off entrance is free!
So, what are you still waiting for? Put on your orange, red, white, and blue outfit, and go celebrate this Dutch holiday!