Most people think of wine, cheese and baguettes. Others think of the Eiffel Tower, the Tour de France and some of the typical French food!
The French people love good food and they like to take the time for it. in France, people eat three meals a day, but the emphasis is on the warm lunch: le déjeuner.
French cuisine is typical, and I wonder, are all the clichés true or is it something different in reality?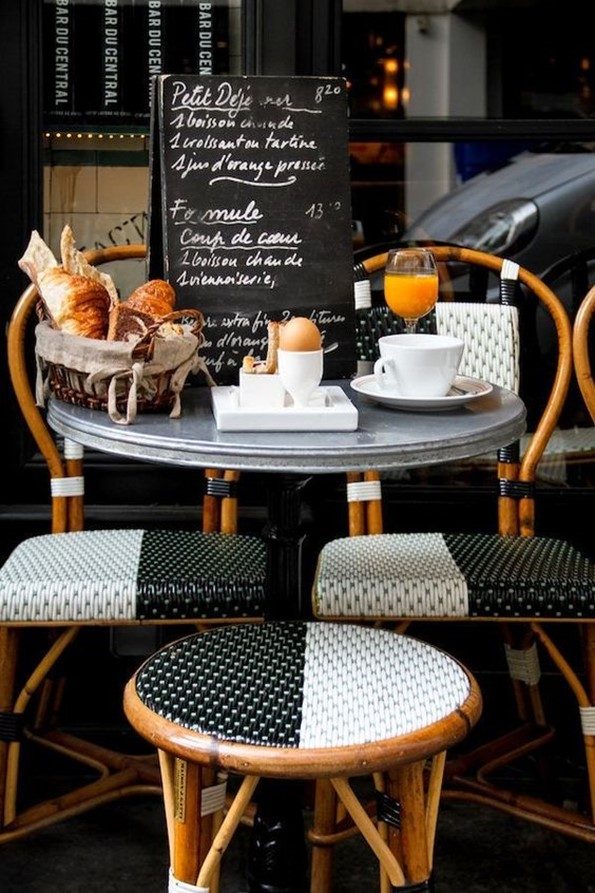 Le petit déjeuner
A typical French breakfast no longer consists of baguettes and pastries. Of course, baguettes are indispensable, it is offered with every meal, but in France you can taste many more breads and pastries and even other authentic dishes. However, the classic French breakfast consists of a large cup of coffee and a piece of baguette dipped in the coffee. It differs per region whether butter and croissants are added to this. The 'café au lait', coffee with lots of hot milk, really belongs to the breakfast. To give your breakfast even more French luxury, supplement it with chocolate bread, yoghurt and possibly a piece of fruit.
Déjeuner
The Frenchman takes plenty of time to sit down and eat an extensive meal between 12 noon and 2 pm, even on working days, this is also known as "le dejeuner". This meal is the most important of the day. If you are in France as a tourist, you can often get a whole menu for around €10! This meal traditionally consists of a starter, a main course and a dessert. They start with a salad, as a main course a good piece of meat or fish with some vegetables, sometimes some fries and then, the dessert…!
The dessert is very different from what we are used to in the Netherlands. First, you choose from different cheeses, the "fromage blanc" and the "fromage sec". The first kind of looks like cottage cheese and the second kind is the typical French cheese as we know it. Often a red wine is drunk with it.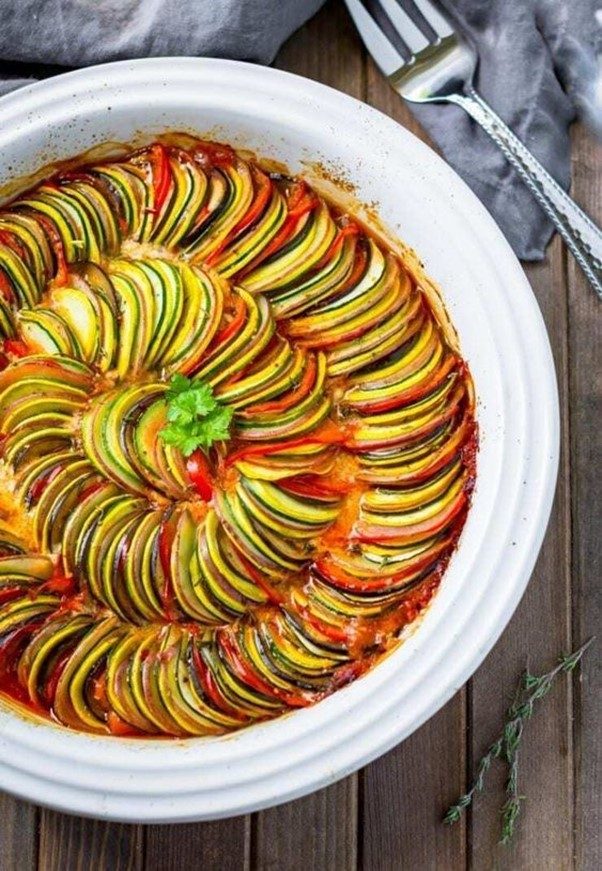 Le diner
This meal is less important than the midday meal. Warm food is served, but smaller portions. They also spend less time on it. it is true, however, that the French person sits down for dinner much later in the evening than we do: the food is only served from about 7:30 pm.
France also has many traditional recipes: for example. Ratatouille: this is a dish with stewed vegetables. Pot-au-feu: A French meat and vegetable stew. The basis for this dish is beef and it is supplemented with vegetables of the season. Spices and wine are usually added to flavor the dish. Coq-au-vin: A tasty traditional rooster stewed in wine. Cuisses de grenouille The piece of flesh from the frog's thigh. You can compare it in taste with chicken. It is considered a delicacy in France. Croque Monsieur: This is a grilled cheese sandwich. Nowadays, many modern variations have been devised, such as the Croque Madame (with egg), Croque Hawaiian (with pieces of pineapple) or the Croque Provençal (with tomato). Creme brulée: A famous French dessert. It literally means: burnt cream. It is a custard-like dessert with a layer of burnt sugar as the topping. Crepe Suzette: A dessert of a thin crepe in a sauce of butter, sugar and mandarin or orange.
---
Have you already got the urge to cook? Here's a recipe to make a delicious ratatouille
What do you need?
For 8 servings
VEGGIES
2 eggplants
6 roma tomatoes
2 yellow squashes
2 zucchinis
SAUCE
2 tablespoons olive oil
1 onion, diced
4 cloves garlic, minced
1 red bell pepper, diced
1 yellow bell pepper, diced
salt, to taste
pepper, to taste
28 oz can of crushed tomatoes (795 g)
2 tablespoons chopped fresh basil, from 8-10 leaves
HERB SEASONING
2 tablespoons chopped fresh basil, from 8-10 leaves
1 teaspoon garlic, minced
2 tablespoons Chopped fresh parsley
2 teaspoons fresh thyme
salt, to taste
pepper, to taste
4 tablespoons olive oil
Preparation
Pre-heat the oven for 375˚F (190˚C).
Slice the eggplant, tomatoes, squash, and zucchini into approximately 1-mm rounds, then set aside.
Make the sauce: Heat the olive oil in a 30-cm oven-safe pan over medium-high heat. Sauté the onion, garlic, and bell peppers until soft, about 10 minutes. Season with salt and pepper, then add the crushed tomatoes. Stir until the ingredients are fully incorporated. Remove from heat, then add the basil. Stir once more, then smooth the surface of the sauce with a spatula.
Arrange the sliced veggies in alternating patterns, (for example, eggplant, tomato, squash, zucchini) on top of the sauce from the outer edge to the middle of the pan. Season with salt and pepper.
Make the herb seasoning: In a small bowl, mix together the basil, garlic, parsley, thyme, salt, pepper, and olive oil. Spoon the herb seasoning over the vegetables.
Cover the pan with foil and bake for 40 minutes. Uncover, then bake for another 20 minutes, until the vegetables are softened.
Serve while hot as a main dish or side. The ratatouille is also excellent the next day--cover with foil and reheat in a 180˚C oven for 15 minutes, or simply microwave to desired temperature.
Enjoy!
---
Recipe credits: https://tasty.co/recipe/ratatouille