When we hear the word ice-skating, everyone often thinks of winter, snow, Christmas, and hot chocolate. Not for Creative Business student Fleur van Opijnen (19), who can be found on the ice almost 3 days a week. Fleur has been skating since she was six, and skates in a synchro team. "Figure skating is not a very well-known sport in the Netherlands. When people think of ice skating, they often think of long track skating, or of the "Elfstedentocht" (an ice-skating competition in the Netherlands)."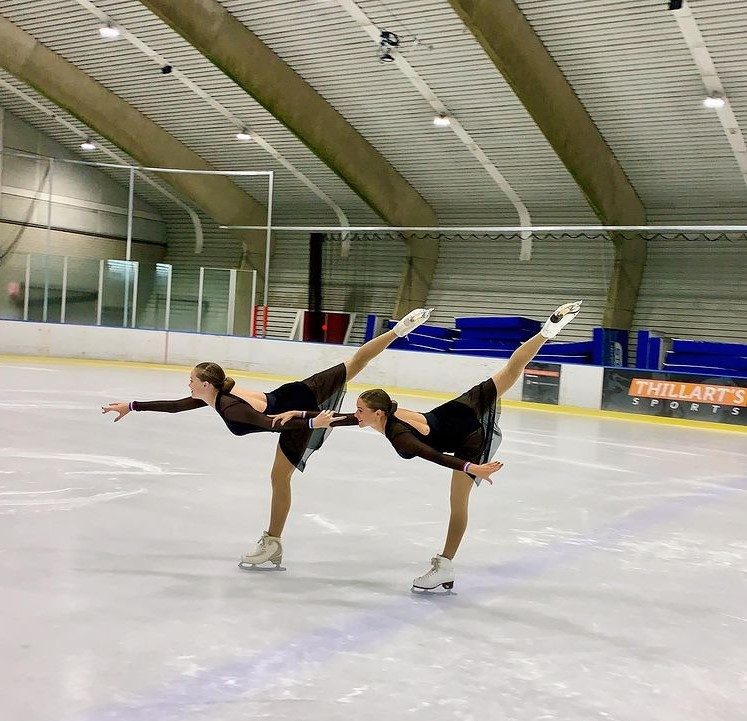 Fleur started figure skating as a little girl at the club BKV (Bossche Kunstrij Vereniging), which is in 's-Hertogenbosch. There she started as a solo figure skater, but after a few years, she joined the synchronized team. "Falling on the hard ice was wet and cold, but I was only more sure that I wanted this. So, as a 6-year-old girl, a world opened up for me and my family."
Team Ice United
Team Ice United is the name of the synchronized team, which consists of 20 girls. "Because I had already skated solo at this club, I already knew a lot of people from the team. After a tryout and some tests, I was a new member of the team!" In a normal training week, Fleur trains 3 days a week, three/four hours per day. Every training is different, they train a lot on the ice, but also work a lot on their condition, strength, ballet skills, and performance. Besides the normal training, they often have training camps, where they also work on their bond with each other. Having a good bond and a lot of confidence is very important in a team sport.
Top athlete at BUAS
In addition to skating, Fleur studies Creative Business at BUAS. Because the first school year was mainly online, combining sports and school went well. Now that there are full days of classes on campus, it has become a bit busier and more difficult to combine. Fleur told me that school helps her with this. "I have been talking to a student counselor who is looking at how I can combine it perfectly with school, which is very nice." Also with competitions, especially abroad, Fleur told me that school is flexible with this. Yet they don't know how it will go due to the coronavirus, the school will also take this into account.
Competition
The whole team travels a lot. They go to various international competitions, mainly to gain experience. The competitors are very strong, but this does not prevent the Dutch team from participating. "The atmosphere within the team and the coach during a competition is really great. It is a kind of bubble in which you live with each other." The biggest achievement Fleur told me about, is that they became Dutch Champion in the season before Corona broke out. What a great achievement!
Sign up!
Skating is her greatest passion; the ice rink really is her second home. "So many beautiful memories lie on the ice rink. But there are also very vulnerable moments, which makes the bond with my teammates very deep. Skating itself is a real outlet because you have to let go of everything if you want to perform."
In almost every city there is a club where you can start figure skating, for example in Breda there is a figure skating club called Jolly Ice sports. They don't have a synchronized figure skating team yet, but you can certainly learn solo figure skating there!
Link to the figure skating club in Breda: https://www.jollyicesports.nl/
The Instagram of Fleurs' team: https://www.instagram.com/teamiceunited/?hl=nl